On April 8, 2010, my wife and I received the devastating news that the baby she had been carrying since December had been diagnosed with two rare disorders, a cystic hygroma and hydrops fetalis, which would eventually take her life.  On April 21st my wife wasn't feeling the baby moving and, as feared, the ultrasound revealed that there was no longer a heartbeat.  We entered our local hospital on April 22, and were discharged on the 24th, discouraged and angry that natural birth could not be induced.  We were told that an invasive procedure would be necessary, and basically we would never see our child.
We were persistent though, and by God's grace a Christian doctor offered to give natural birth another try.  On the morning of May 3, we were admitted to Evanston Hospital and that evening our daughter was born.  It gave us a great deal of closure to be able to hold her in our arms and say goodbye.  We named her Virginia Rae,  a combination of her great grandmother's and mother's middle names.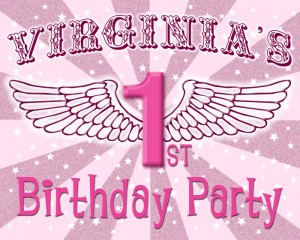 In honor and celebration of Virginia's 1st birthday, we are planning to make a visit to an organization which walked beside us from the diagnosis, through the birth, funeral and since.   The Haven Network is located in Rockford, IL and is a Christian perinatal hospice.  Though they are a couple of hours away from us, they spent countless hours talking to us on the phone, and helping us through the process.  They offer so many wonderful services for no cost, such as photography, keepsake items, bereavement literature, and spiritual support.  We have received cards and letters from them on special occasions since Virginia's passing that have meant so much to us.
We are asking for you to partner with us as on April 21st as we will be bringing them donated items that they can use to serve so many other families who are experiencing the trauma of losing a baby.  Below is a list of items that they are in need of:
Handmade flannel receiving blankets approximately 20×20″.  Solid soft pink, blue, or white in color.
Photo albums—$10 donation in memory of
Ilford 5×7 Premium Photo paper
Gift certificates to local restaurants for the families
1″ pink or blue satin ribbon (without wire)
Solid pink or blue gift bags approximately 10″x12″
Newborn scrapbooking items
Plain white photo storage boxes from Hobby Lobby
Forever Stamps
Above all, we ask that you will just pray for this organization, that they will be be blessed and be able to continue to be a blessing to so many families.  And for us, as the coming month will be very difficult.  Thanks so much in advance for your support!  For more information, you can contact me at tim@krooswykdesign.com or visit one of these other resources:
http://www.facebook.com/event.php?eid=180340232004931
http://cystichygromaandhydrops.blogspot.com/
http://www.thehavennetwork.org